The Dr Fishers of Kings Langley
For 150 years the village doctors of Kings Langley came from just two families. From the 1790s onwards three generations of the Wotton family tended to the medical needs of the villagers, but when Dr Charles Wotton died suddenly in 1881 the practice became vacant, and a recently-qualified doctor/surgeon from London stepped in and started another three-generation family of doctors.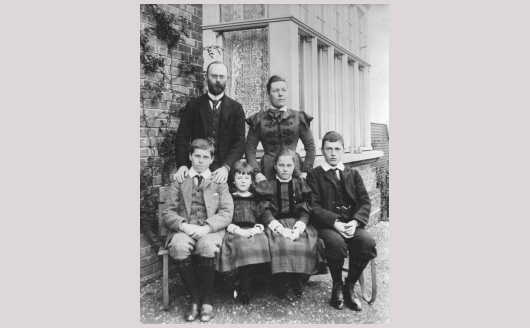 Dr Frederick and Clara, 1896, with their four children;
left to right, Reginald, Peggy, Norah and Mortimer
Dr Frederick with his carriage coachman George Trace and fine white horse
Dr Frederick Fisher and his De Dion Bouton
Dr Reginald Fisher
Dr Frederick Fisher
In 1882 Dr Frederick Fisher brought his bride, Clara Mortimer, to Kings Langley to live in The Red House in the High Street, and very quickly they became an integral part of village life. Alongside the Lord of the Manor, the vicar and a select group of elders, they ran the village. In the next few years the family increased with the birth of two sons, Mortimer and Frederick and then two daughters, Nora and Helen, known as Peggy.
In 1896 the Fishers had a new house built for them in a commanding position in the High Street, just across the street from Red House. A fine Edwardian house, it had plenty of room for the family as well as the doctor's surgery. Mrs Fisher named the house 'Little Hayes' because, she said, of the many small hedges on the site. A large area was cleared in order to build this house and in the process some old houses were demolished. These included one cottage that had been used since 1859 as the 'Reading Room and Library' for the education of the young men of the village. So, once Little Hayes was complete, the Fishers built a new Reading Room behind the shop next door to them, at No. 31 High Street. More than 100 years later, this Reading Room is still used intensively as a meeting place by many village organisations.
Dr Frederick was deeply involved in many village activities. With a thought for the health benefits to his patients he supported many sporting activities, becoming the first president of the football club at its inception in 1883, playing cricket and having a croquet lawn at the back of the house.
Dr Frederick was an impetuous, forthright man who made big decisions quickly. For many years, his transport around the neighbourhood was by horse and carriage, driven by his coachman, George Trace. But one day he was so angered by Trace being very drunk in the middle of the day, that he went straight out and bought a De Dion Bouton motorcar from Pemsel & Wilson, motor engineers, at Apsley. The hood at £17 and the doors at £3.15s were extra, the total coming to £277. 10s. This was at a time when an agricultural labourer's wage were less than £1 a week. The registration certificate for AR 461 was dated March 3rd 1905. Dr Fisher would not allow Trace to drive it. It was the first motor car in the village and created a great stir. With a small engine it struggled with the local hills, particularly when called on to tow the hand-operated fire-pump up the hill to a blaze in Chipperfield.
Mortimer died in action in 1914. Then, having tended to the villagers through the influenza pandemic of 1918 that killed 200,000 people in Britain, Dr Frederick himself was struck down by the disease and died at the early age of 60.
Dr Reginald Fisher
His second son Dr Reginald took over the practice and continued like his father to be a power in the village. In 1921 he married the vicar's daughter, Grace Haythornthwaite, and they devoted themselves to the village. They had two girls and two boys, including James, later Dr James. Around Little Hayes there were five acres of garden and in later years Dr Reginald made large parts of this available for village use. After World War 2 he gave land for the construction of a new Community Centre, with public tennis courts and a field for village events. Later the County Library and a doctors' surgery were built on Fisher land, together with a small housing development that was named Fisher Close to preserve the family name.
Dr Reginald had a life-long interest in the history of his village and he was part of an influential group that formed the Kings Langley Branch of the Workers' Educational Association, which published in 1963 an authoritative book on the village history. When he retired at the age of 79 in 1963 his son Dr James Fisher took over the practice for a time, but then moved away from the village. For a few years Little Hayes was divided into flats, and Dr Reginald never had to leave his home. From the window of the room in which he died in 1966 he could see across the road the window of the room in which he had been born.
Little Hayes was demolished soon afterwards and a new block of apartments was built, again named - Little Hayes.
Reproduced by kind permission of Alan Penwarden
"It is with great sadness that we have to inform you of James Fisher's death in the early hours of 19th December, peacefully at Bournemouth Hospital. Although 90 he was active to the last, thoroughly enjoying a family party for his grand and great grandchildren just 2 days earlier."
That message from his family was received late on the 23rd December to the great shock and sadness of all those who knew James or were associated with him in Kings Langley. He was the third generation of village doctors to practice in Kings Langley, following his father, Reginald and grandfather, Frederick, all three being much loved and respected people and benefactors within the village and beyond.
James worked in the practice with his father before moving down to Bournemouth, where he lived for the rest of his life.
James inherited a great interest in local history, and was very involved in studying and researching Kings Langley history, and also that of his family since his grandfather came to the village in 1883.
In February 2011, James visited the village after a long period of absence and after a lunch held in his honour, the Kings Langley Local History & Museum Society presented him with a Certificate, awarding him Life Membership of the Society, in recognition of his support and interest in the work of the Society.
The Chairman of the Society, Richard Garnett Harper writes: "Jim has been an inspiration to us and a fine example to us all, with his positive outlook, his enthusiasm and zest for life. He was a real gentleman, kind and generous, with a lovely humour which we will miss enormously. We will look back with gratitude that we knew and were associated with such a great and inspiring character."
In making the announcement of his death, his two sons and two daughters, wrote "We have been quite overwhelmed by the wonderful tributes of genuine love and respect in which James was held by so many: he did truly touch many, many people's lives with humour and his own unique way that made everyone feel very special. All was underpinned by his deep Christian faith, and so his memorial service, celebrating his life, will be at the church which he was instrumental in building when he arrived in Bournemouth in 1948 and where he has been a pillar of the community ever since."
The Memorial Service took place at Holy Epiphany Church, Castle Lane West, Bournemouth on Friday 28th December 2012.
Reproduced by kind permission of Richard Garnett Harper