Toovey's Mill
The evidence indicates that there was a mill on the site at the time of the Domesday survey of 1086. In 1763 the mill was sold to John Surrey. He died in 1770 and the mill was left to his only daughter Esther who, in 1778, married her cousin Thomas Toovey. The mill was left to their son Thomas in 1830. Esther had a family tree on her mother's side going back to Nicholas King who acquired the mill on a lease from Queen Elizabeth in 1587.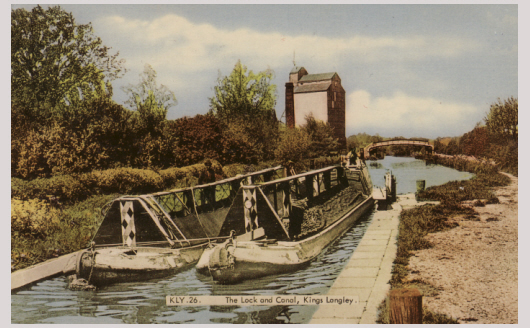 Canal Lock and Toovey's Silo (Demolished 1980)
Mill Lane
Mill House and Loading Bay
Flour delivery wagons
In 1797, the Grand Junction canal was cut right by the mill augmenting the River Gade and providing a new means of transport. Following a dispute over water rights the canal company bought the mill in 1846 and Thomas Toovey leased it back from them. On his death in 1847, William Archibald Toovey succeeded and some years before his death in 1898 made the mill over to his son William Toovey.
In 1894, he put in a steam engine and a new steel roller mill was installed and the gradual reduction of flour milling began. In 1914, the plant was producing 8 sacks per hour, a sack of flour being two and a half hundredweight (280 lbs) but packed mostly in 140 lbs bags for sale. "Golden Spray" was Toovey's top grade flour, and a canal boat registered in the name of T W Toovey in 1922 carried that name.
Toovey's also had two horse drawn wide boats, 11 ft beam, "Langley" and "Betty" which brought sacked wheat from Brentford to the mill. In 1913, Foden steam lorries replaced the 30 or so horses and the wagons used to make deliveries. A new 150 hp Woodhouse and Mitchell steam engine run by two Lancashire boilers was installed in 1916 and ran until removed in 1956.
The old iron breast waterwheel, about 12 ft diameter, was taken out in 1921 and replaced by two Swiss turbines, one of which continued to drive an electric generator until 1978.
Lewis Dean joined his uncle in 1922 and ran the mill after Thomas Toovey retired in 1928. In 1936 a six storey grain silo, 1000 tons capacity, was erected releasing space used for storage in sacks for the expansion of the production of animal feedstuffs started in 1931.
Due to competition, flour milling ceased in January 1939 and the company name changed to Kings Langley Mills Ltd.
By 1946, the mill was in poor condition and the canal company would not spend money on it. Lewis Dean bought it back at a price considerably less than that at which his great grandfather had sold it exactly one hundred years before.
In 1960, more modern plant was brought in for mechanised handling and packing. To meet growing demand, a bulk delivery service of feeding stuffs started in 1969. In 1968, Lewis Dean's son Richard Toovey Dean became joint managing director.
The end came in 1978 when the company went into voluntary liquidation. The machinery was sold by auction and the mill was demolished but the mill house was retained and the whole site redeveloped for residential use.

From Corn Mills in Dacorum by Peter Ward in Hertfordshire's Past 29 Autumn 1990
also The History of Kings Langley Mill by Lewis Dean, J. of the Watford & Dist. Ind. Hist. Soc. no. 1, 1971
Reproduced by kind permission of Peter Ward.
In 1983 Lewis Dean gave a detailed talk (now archived) to this Society describing the history of the Mill, methods of flour production. In this short extract he describes early documentary references of its development.