Roads
Some of the roads of the village were already established in the 13th century. The road from London to Berkhamsted went along the east side of the river next to the present railway line as the original Roman road had done. The road through the village itself ran along Green Lane (the footpath beside today's Community Centre) to Rectory Lane.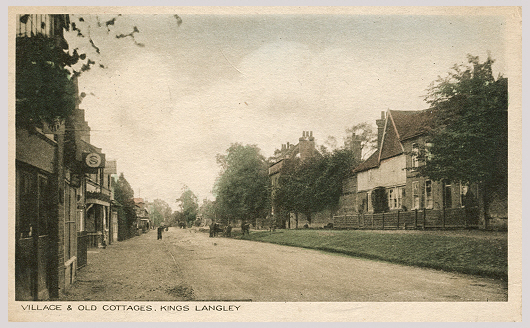 High Street looking south. Post Card postmarked 27 September 1918
Map of J. Cary 1790. Main road enters High Street from Rectory Lane and The Nap
High Street looking south
High Street looking north

The original village was probably centred round the mill and along Water Lane. Later there was a separate royal part of the village beside the Palace and Friary at the top of `Le Corte Hill', the present Langley Hill. It is thought that a third grouping of buildings developed in medieval times alongside the space which had come to be used for markets. This was called New Chepinge at that time and is now the High Street.
In the 18th century improvements began on the main roads out of London. The Sparrows Herne Turnpike Trust was given the task in 1762 of `turn-piking' the road in this direction, that is of improving and draining the roadway and establishing toll houses at intervals, at which travellers made a payment towards the upkeep of the improved route.
The turnpike approached Kings Langley by the old trackway from Hunton Bridge and entered by the High Street. But at that time there was no road continuing beyond the High Street's junction with Vicarage Lane and The Nap. The through route had to turn downhill towards the mill at that point and back towards Apsley along Rectory Lane. The awkward turn into The Nap was difficult and dangerous and in about 1823 a new road was cut across the old vicarage gardens, establishing the present line of the A4251 between Vicarage Lane and Rectory Lane.
Before the railway was built in the 1830s it took about three and a half hours to go to London by coach and cost 4s each way with a tip for the driver. Travelling by road was tedious, slow and uncomfortable because of the state of the roads and the discomfort of the carriages. From the advent of the railway the trains took over in popularity—until the days of motor buses and cars.
Adapted from Palace, Priory and Mills KLLH&MS (1987)