Parish Church

All Saints Church with its impressive perpendicular style built of flint and Totternhoe stone with red brick dates mainly from the 14th and 15th centuries. The nave provides evidence of an Early English Church confirmed by the recorded visit by Edward 1 in 1299 and the documented list of vicars.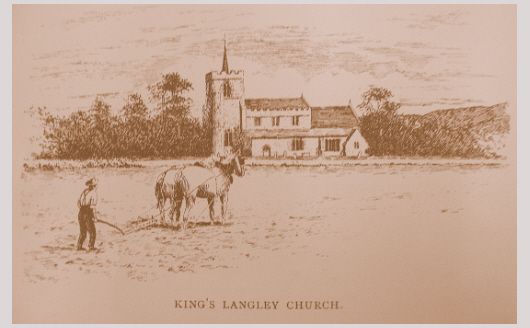 View of Church from the south when New Church Yard was a corn field
All Saints Parish Church
Church viewed from Green Lane and part of the old school playground
View from Church Tower. School building in foreground but no Blackwell Road!
Subsequent rebuilding, restructuring and additions to the church over the centuries have followed a traditional style apart from the octagonal Church Room on the south side with its modern design and materials.
Of the many monuments and memorials in the church the most famous is the tomb of Edmund de Langley (fifth son of Edward 111) and Isabel of Castile. This tomb, made of Purbeck marble and alabaster, was originally in the church of the Dominican Friars at the top of Langley Hill but was brought to the Parish Church, probably in 1557, following the deterioration of the Friary Church, the roof lead from the latter having been stripped for use at Windsor!
The official All Saints Church Guide booklet (W.C.R. Hick) 1976, provides much additional information along with the long standing history 'The Parish of Kings Langley Its Ancient Church and its Historical Associations' J.P. Haythornthwaite 1924.
Kings Langley Parish Church / The Benefice of Langelei
St Albans Diocese provides maps of the Kings Langley Ecclesiastical Parish Boundary (Click Find Us tab)
The Victoria County History 1908 is a free online resource with a subscription section giving access to prime sources.
The monumental inscriptions from existing and some previous grave stones, including the War Memorial, in the old and new churchyards were recorded in 1996, details of which may be found in Kings Langley MI Series No 57 by the Herts Family and Population Society. The KLLH&MS archives contain much additional material including a computerised list of inhabitants from parish and census records.